How to Draw a Basketball Hoop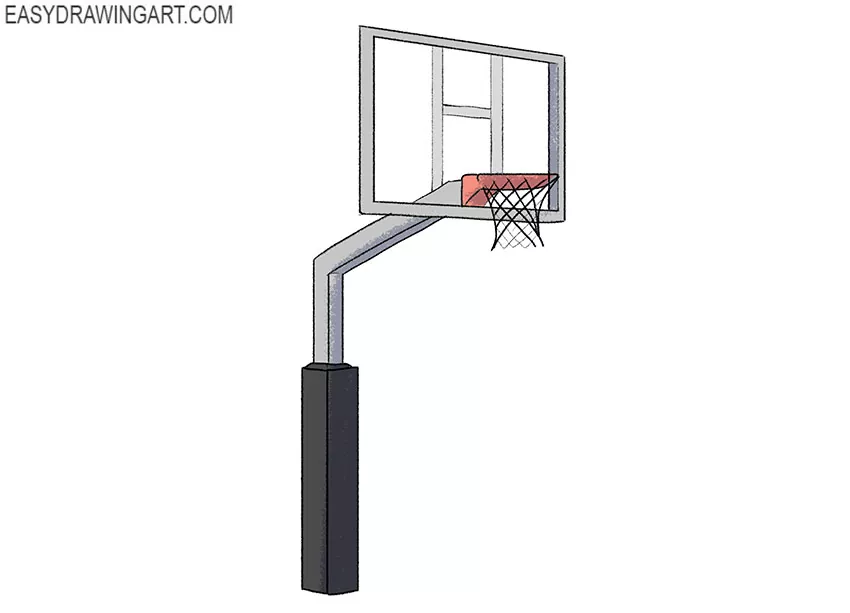 With simple instructions we will show you how to draw a basketball hoop. Completing this tutorial will be a great workout for you and you will improve your artistic abilities.
So now you will learn how to draw a basketball hoop. This is a metal structure that has a base in the form of interconnected elements. At the top of the structure there is a rectangular shield and a ring with a mesh. The size of the basketball must meet certain standards.
With this lesson you will train your spatial imagination and the ability to draw straight lines.
Time needed: 50 minutes
How to Draw a Basketball Hoop
Prepare the base.

Determine the location of your design and use thin lines to determine the position of the support post and ring.

Draw the bottom of the pillar.

Use several straight lines and draw the shape as an elongated rectangle, as shown in the example.

Depict the top of the pillar.

From the base of the pillar, draw three straight lines upward and draw the bend in the pillar at the top.

Sketch out the shield.

Focus on the lines that you drew earlier and draw the outer and inner contour of the shield using smooth, straight lines.

Add the metal ring.

Continue the lines of the base and draw the ring. Be careful at this stage and maintain proportions.

Draw the grid.

We recommend that you first draw the outer outline of the mesh and then gradually add many transverse lines.

Detail the top of the structure.

Draw several straight lines on the backboard to depict individual parts of the basketball hoop.

Correct any inaccuracies.

Check whether you have depicted the main structural elements correctly and if you notice errors, carefully correct them. Remove extra lines.

Color the drawing.

For coloring, use different shades of gray and red. Highlight the dark areas.
Did you immediately get a good result or did you encounter difficulties during the work? Write about it in the comments. You can also suggest your ideas for the next lessons. Subscribe to us on social networks and stay tuned for updates on the website.