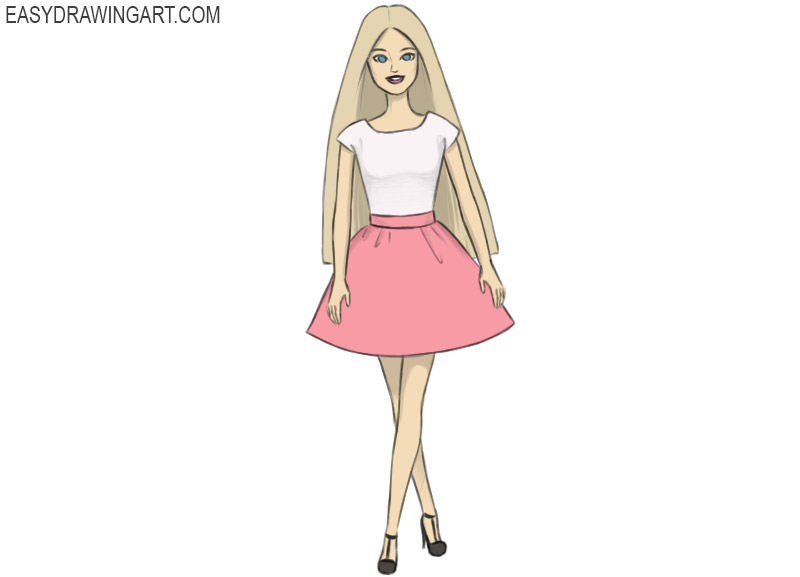 This drawing lesson is about drawing the most famous doll in the world, and now we will show in detail how to draw Barbie.
This doll looks like a grown-up girl, not like a child, unlike many other dolls. The doll has movable arms, legs, and head. For such a doll, you can come up with beautiful outfits and thus create different images.
Barbie has a thin waist, long slender legs, gorgeous hair, and cute facial features. All these features make Barbie a favorite of millions of children, and for many years the doll has not lost its popularity. So, we hope you enjoy this step-by-step guide and have fun drawing Barbie.
Time needed: 50 minutes.
How to Draw Barbie
Sketch the basics of the drawing.

Firstly, draw the centerline and add three rounded shapes to mark the position of the head and torso.

Mark the contour of the torso.

Secondly, draw the neck, shoulders, and sides of the torso. On the head, make a marking with two crossing lines.

Mark the position of the limbs.

Thirdly, cross straight lines and small circles at the joints to mark the position of the arms and legs.

Draw the eyes and eyebrows.

Barbie has very beautiful, expressive eyes, so be especially careful at this point.

Draw the nose and the mouth.

Use a thin line to draw a small nose and add the mouth with rounded lines.

Depict Barbie's hair.

Draw the outline of the hair with curved lines, and then add the hair line above the forehead.

Draw some clothes.

Barbie is dressed in a short fitted sleeveless T-shirt. So, use curved lines to depict this.

Draw the arms.

Use auxiliary lines to draw the arms. Add volume to the arms by drawing parallel lines.

Outline the hands.

Look carefully at the example and try to draw the same hands.

Draw the skirt.

First draw a small belt, then draw even lines on the sides and one connecting line at the bottom.

Depict the legs.

Add volume to the legs with smooth lines. Try to correctly depict all the natural curves.

Add the shoes.

Barbie is wearing sandals that almost reach her ankles and have a heel.

Correct the inaccuracies.

Now remove the auxiliary lines and correct inaccuracies if necessary.

Color Barbie.

Use any natural shade to color the skin. Also, use pink, black, blue, and beige.
Now, you have learned how to draw a wonderful Barbie doll. You can use these skills when you want to draw any model girl. Imagine yourself as a designer and make up beautiful outfits for the dolls you draw.