How to Draw Steve from Minecraft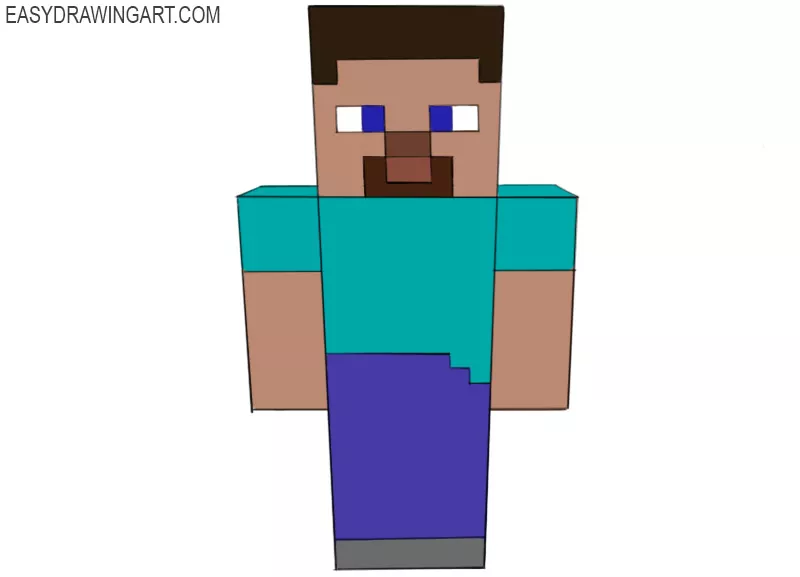 In this step-by-step tutorial, you will learn how to draw Steve from Minecraft. This guide consists of just a few easy and useful steps.
If you are a fan of the Minecraft game, then you will certainly like this lesson, because here you will learn how to draw Steve from Minecraft. This is the main character of the game.
Steve's body consists of several squares and rectangles, like all other characters and objects in the Minecraft game. Steve is traditionally dressed in a turquoise T-shirt and purple pants. Here is a simple instruction with which you can easily draw this popular hero and get a good result. This lesson will require your ability to make smooth, straight lines.
You can use any tools at hand, but we recommend drawing all the lines yourself. Thus, you will once again train your skills and in the future you will be able to easily draw straight lines.
Time needed: 1 hour
How to Draw Steve from Minecraft
Draw the outline of the torso.

The torso is rectangular, but in this case you are drawing a rectangle in perspective, so the shape of the rectangle is not perfectly even.

Depict the hands.

Now you must draw the next block, which is also shaped like a rectangle. This block is located in the middle of the body. Thus, you will depict two hands.

Add the outline of the hair and shoulders.

At the top of the head, draw the outline of the hair. Below the head, draw a few straight lines to give the object volume and draw the shoulders.

Sketch out the facial features.

Use small squares to draw the eyes, nose, and mouth. Carefully draw all the lines and keep the proportions.

Detail the clothes.

Draw a horizontal line below the shoulders to outline the shirt. Also draw lines at the bottom of the torso to outline the outline of the trousers.

Check your drawing.

Steve's figure is almost ready! At this stage, compare your drawing with the example and correct inaccuracies if necessary.

Color the Steve.

Beige paint the exposed areas of the body. Color your hair brown. For clothes, use turquoise and purple. Color the shoes gray.
The next lesson has come to an end, and now you have learned how to draw Steve from Minecraft. Now a new bright character has appeared in your collection of drawings. Share your opinion about this tutorial, and we will gladly read your comments. Also write what other characters you would like to draw. Your ideas will definitely be used to create new, exciting lessons.