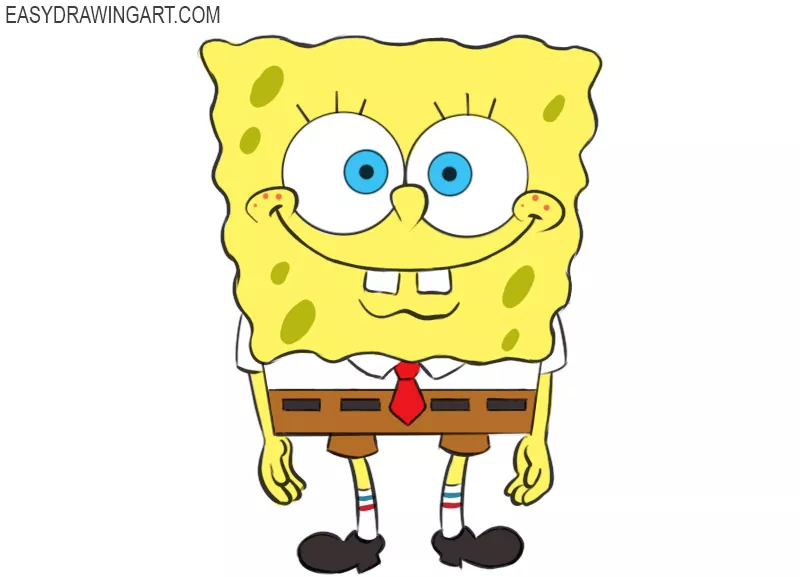 In this drawing guide we will show you how to draw Spongebob. This is a really simple lesson, but you should be careful because the slightest deviation in the lines will make the appearance of SpongeBob incorrect.
Step 1
Firstly we will depict a trapezoid. Place this shape in the center of the sheet of paper. Try to draw this trapezoid without using a ruler.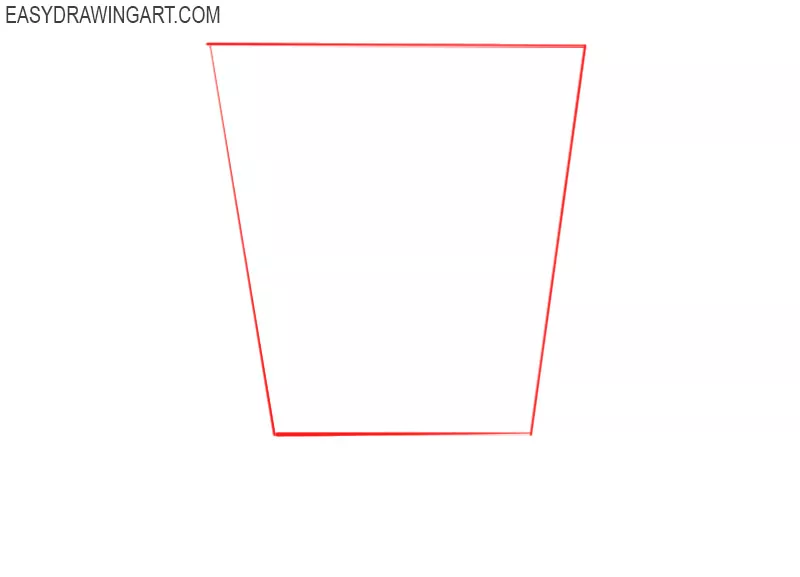 Step 2
We circle the upper part of the trapezoid with a smooth wavy line to get the contours of the head of our character. Try to accurately copy the number of protrusions and the distance between these protrusions.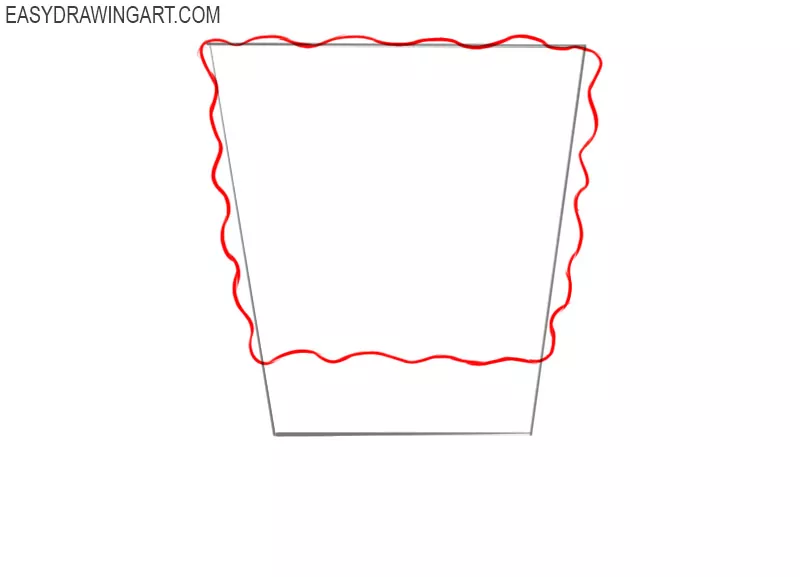 Step 3
n this step, we will draw a couple of eye contours. The eyes should be as close to each other as possible. Be mindful of the position of the eyes and the size of the eyes. If you make a mistake in this simple step, your SpongeBob will be very distorted despite the correct steps in the next steps.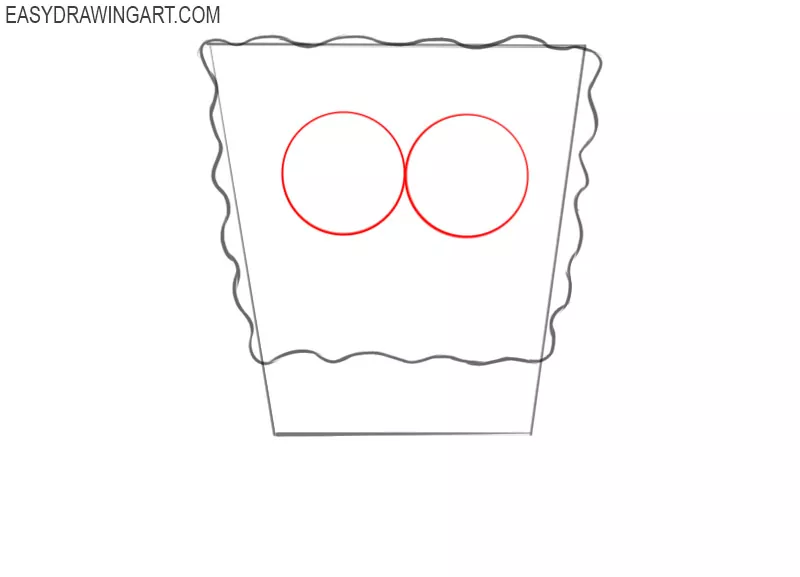 Step 4
Let's work with individual facial features of our sea dweller. You see the pupils that are located quite close to each other. Please note that they do not fit close to the edges of the eye.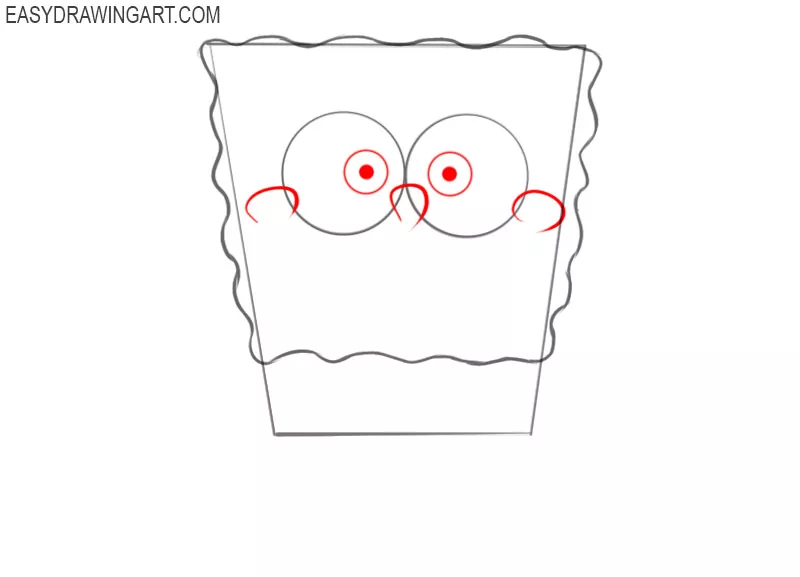 Step 5
So we have the approximate outlines of the head and eyes of our character. Let's draw a mouth. You probably know that SpongeBob loves to smile. Therefore, we should portray a broad smile long across the face. We should also depict a pair of large teeth.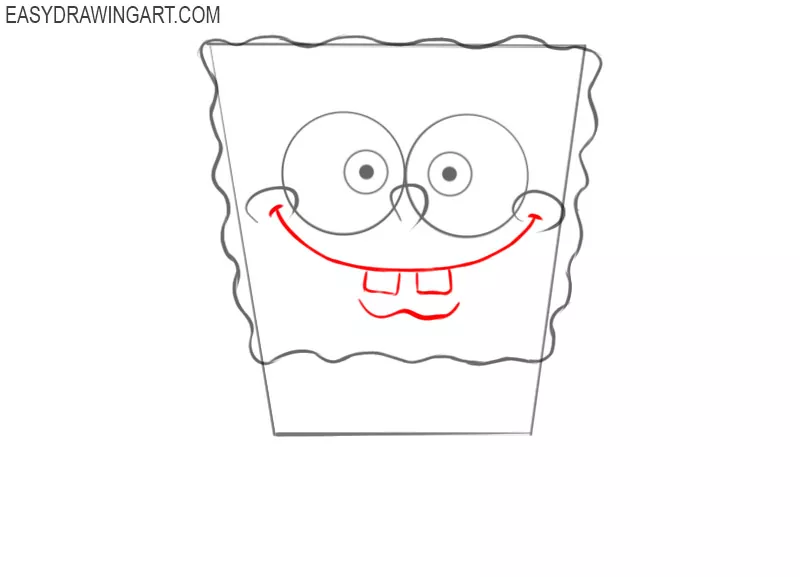 Step 6
If you are a true SpongeBob lover, you probably know what this cute guy is wearing. This is of course a short tie and a shirt with sleeves.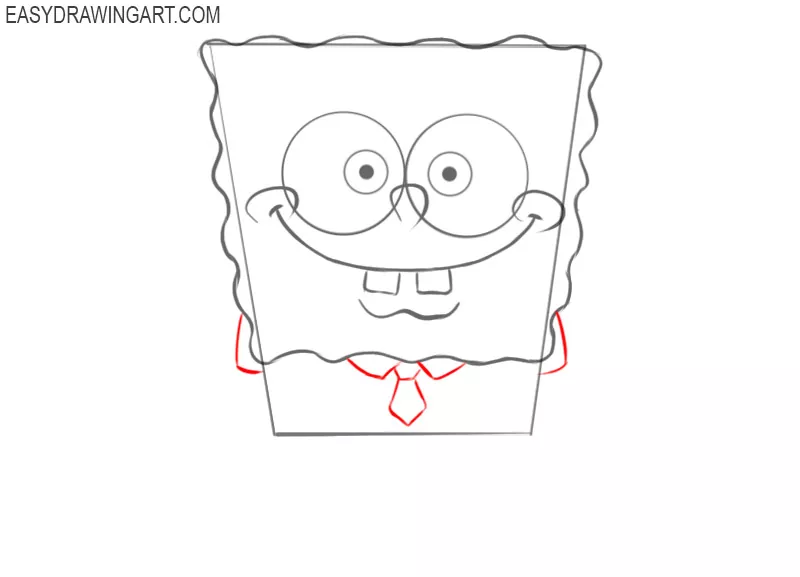 Step 7
It's time to draw a belt and straps on SpongeBob shorts. Only straight lines should be used in this step. Draw exactly four rectangles as in our sample.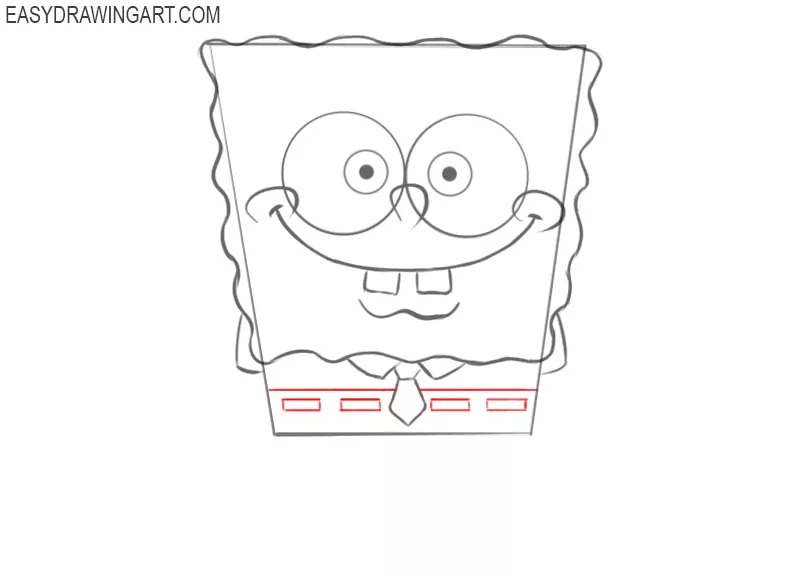 Step 8
We draw the contours of short shorts. Also in this step, we will draw two vertical lines with which we will draw the hands of Sponge Bob.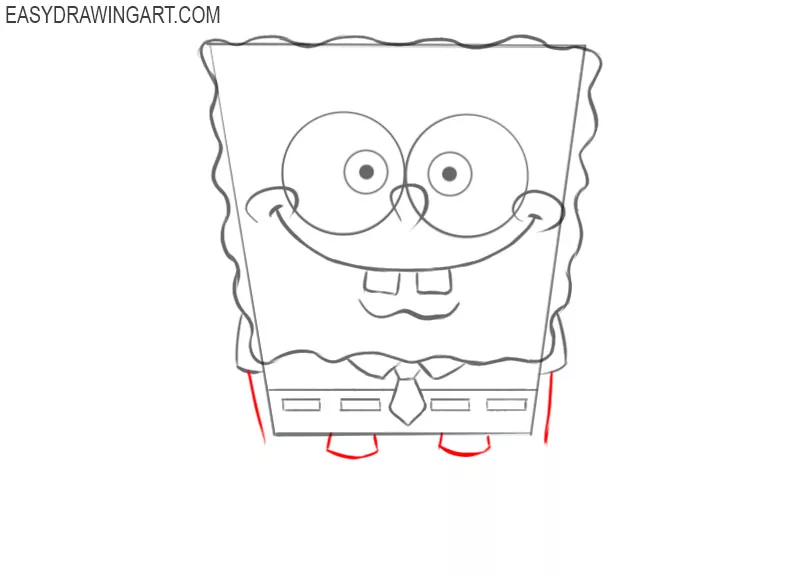 Step 9
The animation feature of this coolest cartoon is that sometimes very realistic elements appear here. For example, the hands of SpongeBob that look like the hands of a person. Let's draw it.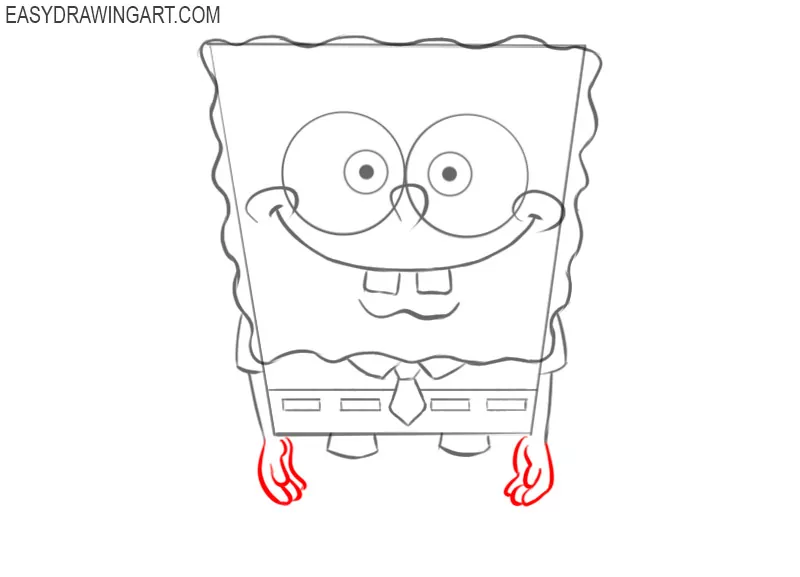 Step 10
So we continue the guide on how to draw SpongeBob. Thin bent legs are another outstanding detail on the appearance of this character. That is what we will portray at this stage.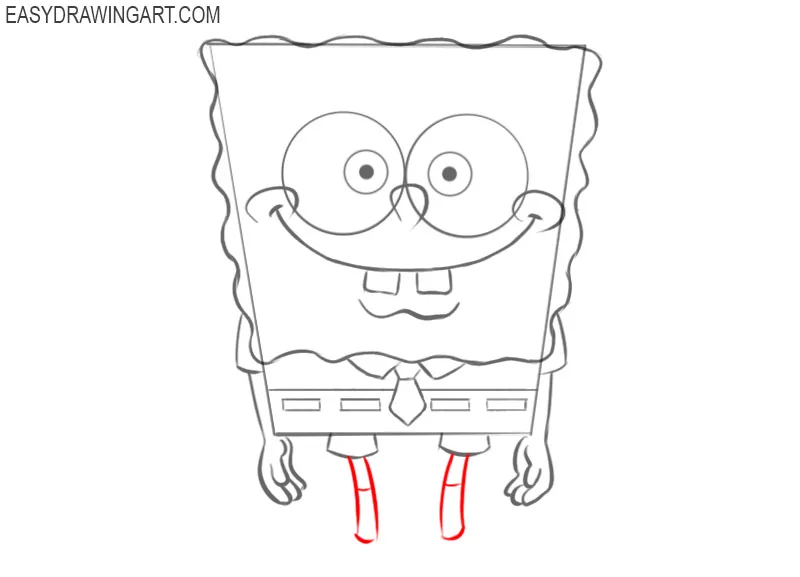 Step 11
SpongeBob usually wears the same clothes. The exception is plot twists when this guy is wearing an astronaut's spacesuit, a pirate costume, or something like that. In fact, you can come up with any costume for our character. We decided to choose the classic look of Bob Sponge, so in this step we will depict boots with rounded toes.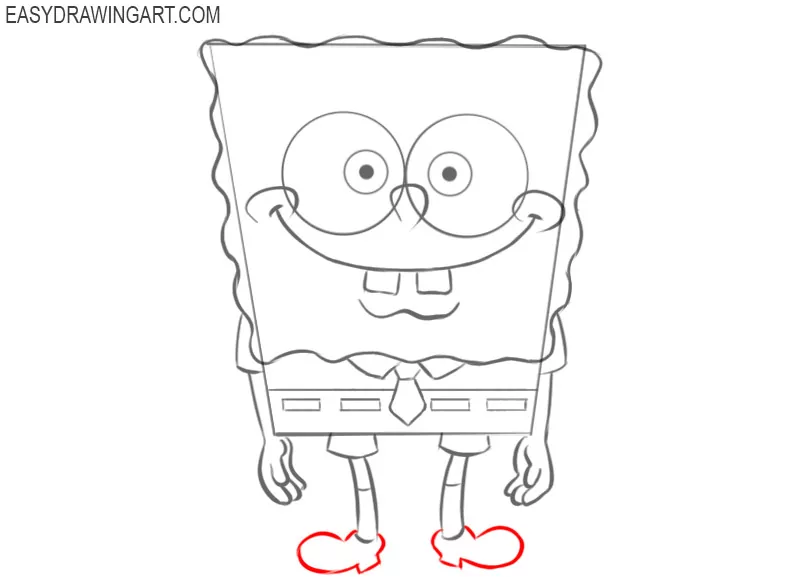 Step 12
If you do not see any inaccuracies, then you can skip this step. If you see incorrect proportions or shapes, you should correct this. The next stage is working with colors, so fixing something will be quite difficult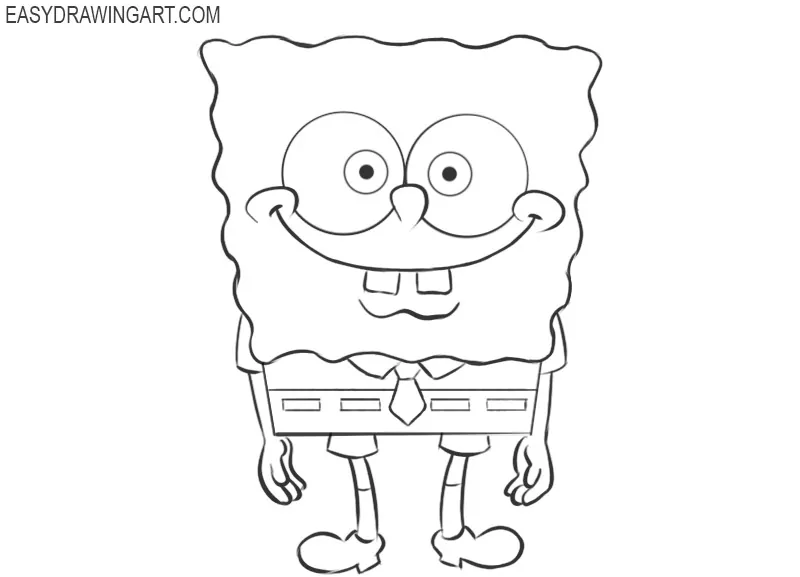 Step 13
We use the traditional colors of Sponge Bob for the last step. Do not forget about the small freckles and stripes on the toes.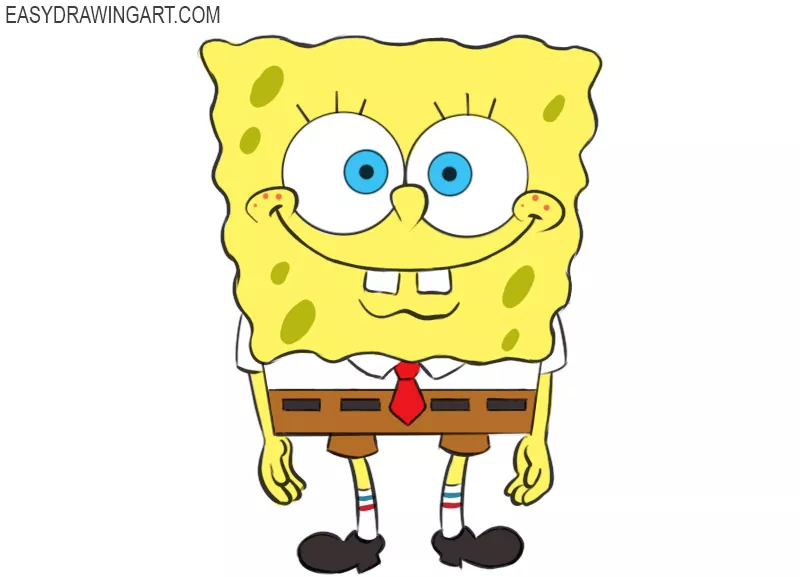 It was pretty easy, right? You can leave your questions or wishes to us in the comments section. The Easydrawingart team is waiting for your opinions and comments! By the way, you can train your drawing skills with another cartoon characters. For example, we have a lesson on how to draw Plankton from Sponge Bob Square Pants