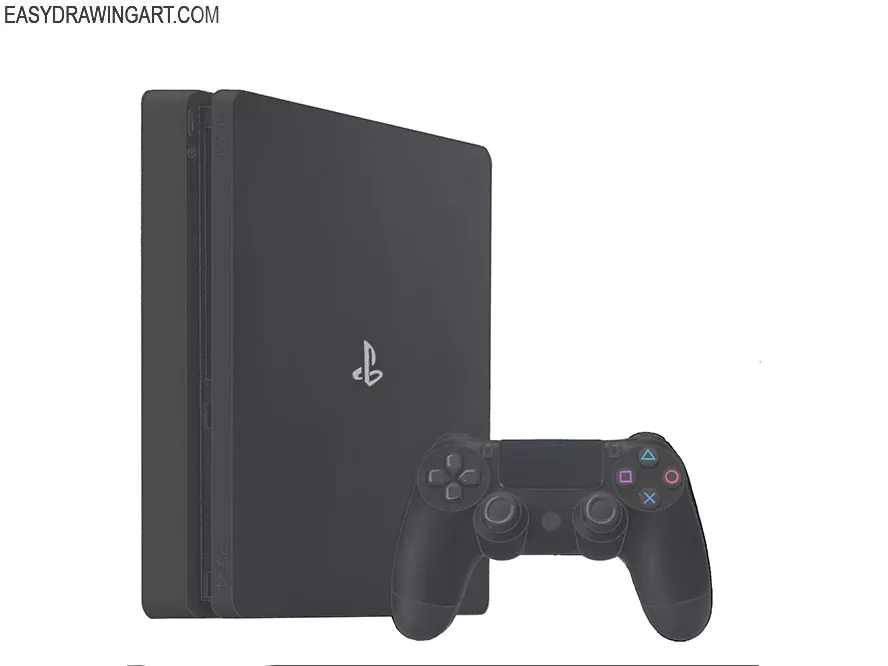 In this unusual drawing lesson, I will tell you how to draw PS4 step by step. This drawing lesson will be useful for each of you.
I suggest you complete a wonderful and very useful drawing lesson, with which you can learn how to draw PS4 step by step. This is another fascinating drawing lesson dedicated to depicting various gadget items.
Completing this drawing lesson will help you greatly improve your artistic skills, as well as practice drawing straight lines and various geometric shapes such as circles, ovals, and arcs. You can optionally use a ruler to draw perfect straight lines.
I promise that you will easily be able to cope with the implementation of this lesson, even if you still have very little drawing experience. The coloring step will be the most important part of this tutorial. While coloring the finished PS4 drawing, you will be able to give it a realistic look, thanks to the correct image of the highlights and shadows.
If you would like to start doing this work, then prepare the art supplies that you will need for drawing and start following these simple steps. I wish you a successful completion of this drawing lesson, and I am sure that you will easily cope with this work!
Time needed: 1 hour
How to Draw PS4
Start drawing the main part of the console.

To draw one side of the PS4, you need to draw a trapezoid-like shape with rounded corners.

Add the side of the PS4 main body.

On the left side of the shape, add two more horizontal and one vertical line and round off the corners.

Continue drawing the main part of the PlayStation 4.

Between the previously drawn lines, draw a few more straight lines, and also add short arcs.

Add small elements.

On the front and side of the PS4, add circles, straight lines, and symbols as shown.

Depict the outline of the joystick.

On the right side of the previously drawn main part of the console, depict the figure using a curved line.

Sketch out some buttons on the joystick.

Inside the previously drawn outline of the joystick, add large and small ovals, as well as a curved line.

Add some more elements on the joystick.

Now you should add some more circles, ovals, and curved lines as shown in the picture.

Depict the buttons and other joystick elements.

Draw circles of different sizes, add arcs, curved lines, as well as four identical shapes.

Color the drawing.

To color the PS4, use green, purple, red, blue, and various shades of gray.
Here you are done with this drawing lesson in which I showed you how to draw PS4 step by step. I hope that you liked this lesson very much, and now you want to visit other drawing lessons on our website. Be sure to give your feedback in the comments and write about whether you liked everything when doing this lesson or if you had any difficulties. I will be glad to read your feedback and ideas for new drawing lessons.