How to Draw Marvin the Martian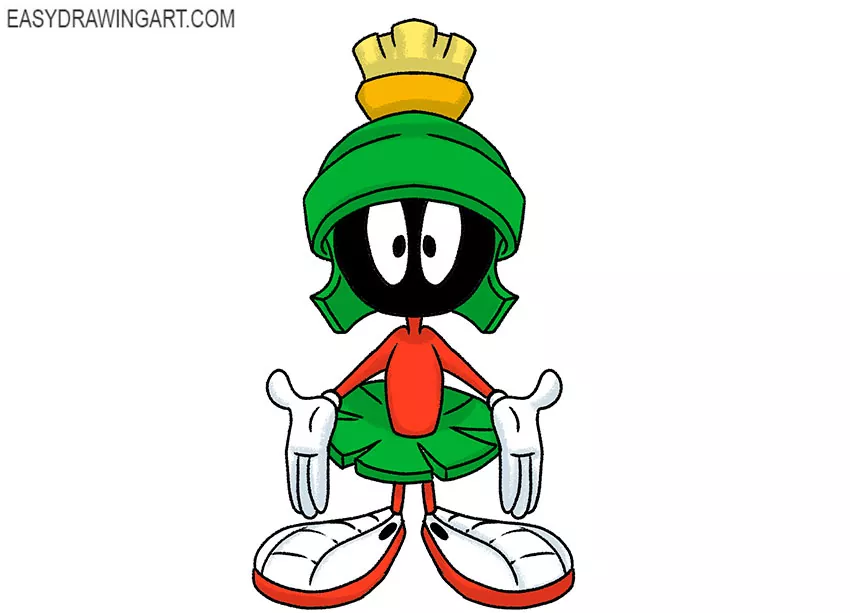 In this tutorial the Easydrawingart.com team will show you how to draw Marvin the Martian. With this step-by-step guide, you will train your artistic abilities once again.
In this lesson you will draw an unusual character and with the help of our simple instructions you will learn how to draw Marvin the Martian.
Marvin has a small stature, a large head and a thin body. There are large gloves on the hands and huge boots on the feet. Thanks to such proportions, this character looks very funny. We hope that the creative process will give you pleasure and you will get a great drawing.
Time needed: 1 hour
How to Draw Marvin the Martian
Draw baselines.

Depict three oval shapes of different sizes, which are located vertically at some distance from each other.

Add the limbs.

Add upper and lower limbs. At the initial stage, use thin lines that can be easily removed later.

Detail the head.

Draw the headdress that fits snugly to the head along the contour and has a high top. Add small elements on the sides.

Depict the elements of the face.

Carefully trace the oval of the face along the contour, giving it the desired shape. Draw two large oval eyes.

Sketch out the neck and upper arms.

Draw small lines down from the head to represent the neck. Draw the thin arms, focusing on the auxiliary lines.

Depict the hands.

At the bottom, add the large hands, in which the palms are raised up. In this step, be careful and observe symmetry.

Add the torso.

Focus on the auxiliary lines and draw the contours of the torso, which has an oval shape.

Draw the belt.

This step will require you to be careful and accurate, because you must correctly depict the belt, which is very similar to the wide skirt.

Depict the upper parts of the legs.

Focus on the auxiliary lines and give the legs the desired thickness. We hope you can easily draw these elements.

Sketch out the lower parts of the legs.

At the bottom, draw the large shoes in which the socks are directed in different directions. Add transverse and longitudinal stripes to detail the boots.

Correct inaccuracies.

The main contours are ready, and now you can remove all unnecessary lines. Correct errors if necessary.

Color the drawing.

For coloring, you will need black, green, red, and yellow. Add dark areas.
You have now completed all the steps in this tutorial and learned how to draw a funny character. We will wait for your feedback and suggestions. Subscribe to us on social networks and stay tuned for updates on the site.