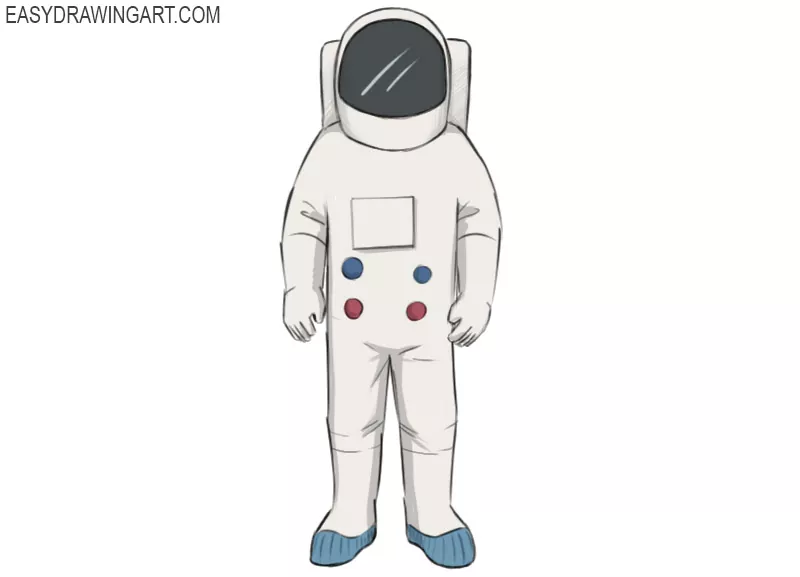 In this tutorial, I will show you how to draw an astronaut in just a few easy steps. This guide is very simple and helpful.
In this drawing lesson, we want to show you how to draw an astronaut. Undoubtedly, the lesson will be fascinating, because everything related to space is of interest.
The astronaut makes flights into space must have great knowledge and special personal qualities, for example, you need to have patience, endurance, and self-control.
For life and work on the space station, the necessary equipment. The astronaut is dressed in a special protective suit, there is a spacesuit on his head. It is in this form that you will draw the astronaut in this lesson.
Time needed: 1 hour.
How to Draw an Astronaut
Prepare the base.

Draw three round shapes to indicate the location of the head, thoracic region, and pelvis. Connect these parts with a vertical line.

Depict the limbs.

In this step, use simple thin lines to draw the astronaut's arms and legs. Mark the joints with large dots.

Add the outline of the suit and the upper torso.

Depict a rounded suit on the head. Add the contour of the shoulders and draw the sides of the torso.

Sketch out the upper part of the arms.

Draw smooth lines from the shoulders and give the arms the necessary thickness. Be careful, take your time and observe symmetry.

Depict the hands.

The astronaut's hands hang down freely and the fingers are slightly bent. Try to portray this position correctly.

Add the upper part of the legs.

We continue to draw the astronaut suit and in this step depict the lower body. Depict smooth lines down from the torso to represent the legs.

Draw the shoes.

The astronaut has wide boots, which are part of the suit. Continue the lines of the legs and give the shoes the desired shape.

Depict the glass on the suit and add the piece of equipment.

On the space suit, draw a wide, rounded hole. Behind the astronaut's shoulders and head, draw a technical device called a backpack life support system.

Sketch out the rest of the costume.

Here you have to draw a few small additional elements in the form of simple geometric shapes. Also add pleats to the suit.

Erase extra lines.

Now you can delete all auxiliary lines. If you notice inaccuracies, you can correct them at this stage.

Color the astronaut.

Traditionally, the last stage of drawing involves coloring the object, and here you will need different shades of gray, as well as black, blue, and red.
The lesson dedicated to drawing an astronaut is over! We hope you enjoyed this guide and had a good time. Write us your comments and suggest ideas for the next drawing lessons!