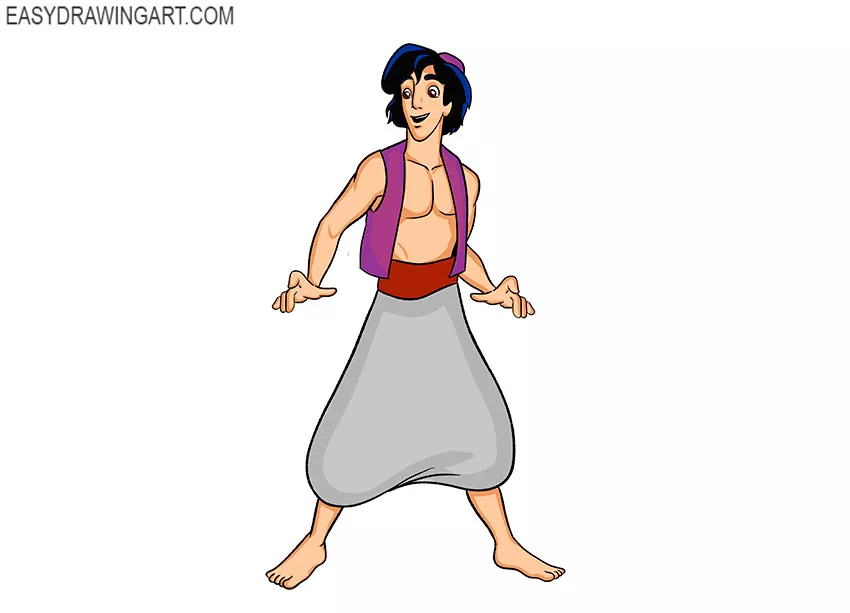 In this tutorial you will learn how to draw Aladdin. If you follow this lesson, you will acquire useful skills and have a good time.
Read more
Now you have to draw a popular fairy-tale character and with the help of a simple instruction you will learn how to draw Aladdin step by step. This is the hero of the tale "A Thousand and One Nights."
Amazing things happened in this young man's life after he met Jin. We hope that you will enjoy drawing this friendly, noble and cheerful guy.
Time needed: 1 hour.
How to Draw Aladdin
Draw the base.

Sketch out a line of the spine and mark the main parts of the body with the help of three rounded figures.

Mark the position of the limbs.

Use thin, straight lines to indicate the position of the character's arms and legs. Mark the joints as small circles. Make a mark on the head.

Add an oval of the face and mark the position of the nose.

With the help of a smooth curved line outline the lower outline of the face and draw the nose using the previously prepared lines.

Depict the rest of the facial features.

At this stage, sketch out two eyes that are round and draw the mouth. Use the lines you drew beforehand as a guide.

Add the rest of the elements of the head.

With the help of curved lines of different sizes, depict individual spiky strands of the hair, draw the wide eyebrows, draw the headdress on top.

Sketch out the upper body.

From the head, draw down smooth lines to depict the neck. Draw the chest, add the short vest and the wide belt.

Draw the upper part of the arms.

Use auxiliary lines and depict the upper parts of the hands, while taking into account all the anatomical features of the structure of the hands.

Depict the hands.

Be especially careful at this step and try to correctly depict the position of the fingers on each hand.

Add the lower part of the torso.

Draw smooth lines down from the waist and draw the wide trousers that are shaped like a trapezoid. Add the shins at the bottom.

Sketch out the feet.

All the main elements of the body are already ready, it remains only to draw the lower parts of the legs. Add two feet that are directed to different sides.

Color the drawing.

Paint the skin beige, the hair black, and use bright colors to color the clothes.
Now you have learned how to draw Aladdin. We'd love to hear your feedback on this tutorial. Your comments motivate us to create new exciting lessons. Don't forget to follow us on social networks.