How to Draw a Nintendo Switch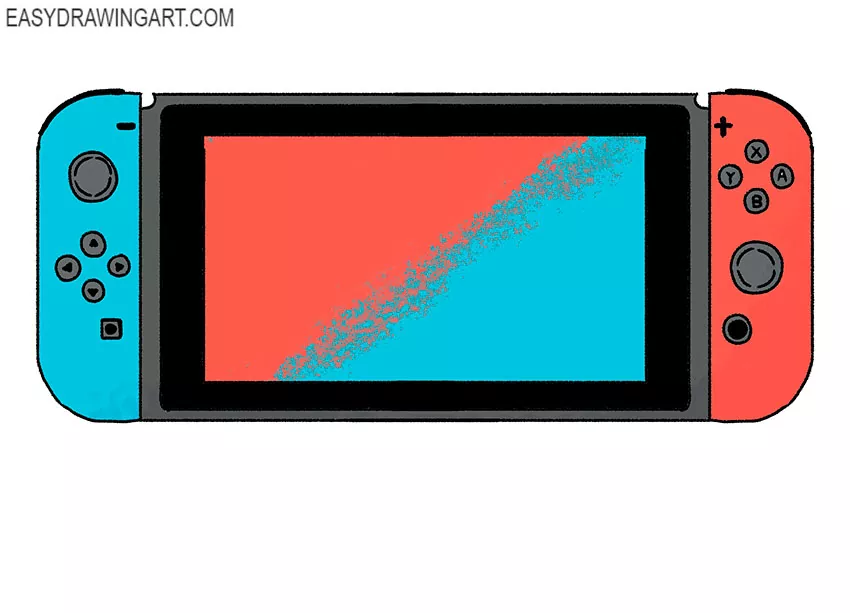 We invite you to complete another exciting drawing lesson in which we will show you how to draw a Nintendo Switch. With this lesson you will once again train your creative abilities and have a good time.
So, here is a detailed step-by-step tutorial on how to draw a Nintendo Switch. This is a gaming console that was developed by a Japanese company. This switch combines the functions of a game console and a gaming system.
There is a rectangular screen in the center of the switch and controls on the sides. Thanks to our detailed instructions, you will easily draw these elements. I am sure that you will really like the lesson on drawing a Nintendo Switch.
Time needed: 1 hour
How to Draw a Nintendo Switch
Prepare the base.

Determine the size of your drawing and sketch out the main outline as a rectangle with rounded corners.

Draw the side elements.

Use guidelines as a guide and sharpen the outlines of the controls that are located on the sides. Try to keep both sides the same.

Make the outline of the screen clear.

Depict a straight horizontal line at the bottom. Also draw a horizontal line at the top and add small semicircular indentations on the sides.

Add the outline of the screen.

Using several smooth, straight lines, draw the outer contour of the screen. Please note that the corners of the screen are rounded.

Depict the inner outline of the screen.

In the middle of the switch, draw another rectangle using a few straight lines. Try to keep the lines straight. If you can't do it by hand, use a ruler.

Start drawing out the controls.

On the left control panel, draw one large round button and just below draw four small buttons. Add a small element at the top of the panel.

Detail the buttons.

Draw triangles on the round buttons. Add another small button that is square. Drawing these details is easy and quick.

Sketch out the buttons on the other side.

On the right side of the drawing, draw four round buttons and add symbols in the form of letters. Draw a small element at the top of the right control panel.

Draw the remaining buttons.

At this stage you need to add the final details. On the right side, draw one large round button and just below add another round button.

Correct any inaccuracies.

Check if you have drawn all the elements of the Nintendo Switch correctly. If you notice errors, correct them immediately.

Color the drawing.

To color the front panel you will need black and gray. Also use two bright colors – red and blue. If you want, you can choose other colors that you like.
Nintendo Switch is ready! We hope you have a great drawing. Don't forget to follow us on social media if you haven't already.