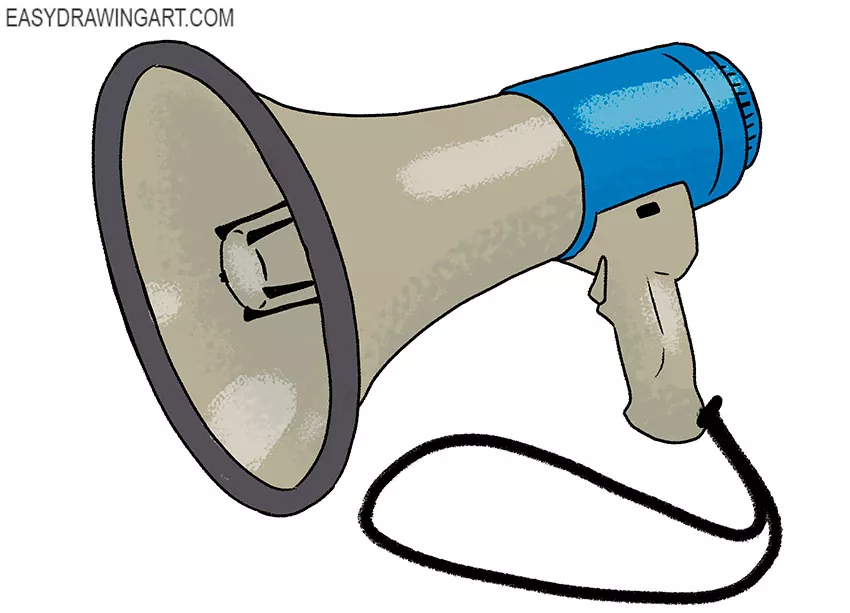 In this tutorial, the Easydrawingart.com team will show you how to draw a megaphone. This step-by-step guide will be interesting and useful for each of you.
We are pleased to offer you instructions on how to draw a megaphone. This is a great subject to draw on and with this tutorial you will improve your artistic skills. This megaphone drawing tutorial is very simple.
The megaphone is a device for amplifying sound. Megaphones are used both indoors and outdoors. Using this device, you can loudly and clearly convey information to a large crowd of people. A megaphone has a microphone, an amplifier, a speaker, and a megaphone.
Time needed: 1 hour
How to Draw a Megaphone
Prepare the baselines.

Draw two shapes of the same shape as in our example to represent the horn and the main body. Depict this outline very carefully and slowly.

Make the outer contour of the horn of the megaphone clearer.

Be guided by the auxiliary lines and carefully draw two ovals of different sizes at the top of the megaphone horn.

Draw the loudspeaker.

Inside the horn of the megaphone, draw an element that has a cylindrical shape and then add details. This step is not difficult, but requires care.

Make the megaphone horn outline clearer.

At this stage, be guided by the auxiliary lines and carefully trace the horn along the contour, giving it the desired shape.

Sketch out the microphone.

Continue detailing the components of the megaphone and in this step make the main part of the megaphone more clear. Add the microphone to the side that is shaped like a cylinder.

Draw the handle.

At the bottom of the megaphone body, sketch out the handle of the same shape as in our example. Do this carefully.

Depict the cord.

Add the last detail and draw the cord in the shape of the loop at the bottom of the handle. You can use freehand lines in this step.

Correct any inaccuracies.

Compare your drawing with our example and if you notice errors, correct them immediately. Carefully remove excess lines.

Color the drawing.

For coloring, you will need different shades of gray and blue. Add the shadows and highlights to make your drawing look more realistic.
This concludes another drawing lesson. We hope that you did great work with this creative task, and you like the result of the work. Subscribe to us on social networks so as not to miss information about new drawing lessons.