How to Draw a Giraffe Head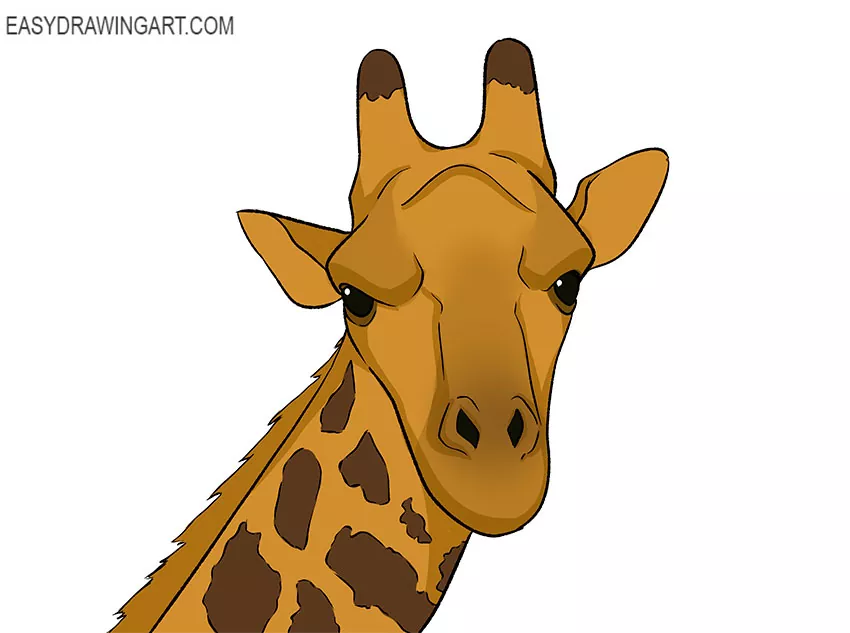 In this lesson we will show you how to draw a giraffe head. We hope you will definitely enjoy this step-by-step guide and have a good time.
Read more
So, we suggest you complete a new exciting lesson in which we will show you how to draw a giraffe's head. Here the muzzle of a giraffe is presented realistically.
If you follow all the steps in this instruction, then you will learn how to draw a giraffe's head, and you can apply the acquired skills in the future when you want to draw an entire animal.
Time needed: 30 minutes.
How to Draw a Giraffe Head
Draw the base.

Start drawing by building baselines. Draw a straight line to indicate the neck and add a circle at the top to indicate the position of the head.

Make markings on the head.

On the circle, draw two straight lines that are located crosswise. These lines will help you correctly position the elements of the muzzle.

Depict the bottom of the muzzle.

From the circle, draw a smooth line down to represent the lower contour of the muzzle. Then draw two nasal openings.

Sketch out the eyes.

As a guide, use the guideline you drew earlier and draw two eyes on the sides of the head. Add skin folds near the eyes.

Add the neck.

This is a simple step in which you need to draw two straight lines to indicate the upper and lower outline of the neck.

Detail the top of the head.

At the crown, draw two horns using curved lines. Add the brow ridges near the outer corners of the eyes.

Sketch out the ears.

Depict two ears of the same shape as shown in the example. On the forehead, draw one smooth curved line.

Add the mane.

On the upper part of the neck, successively depict the spiky strands of the mane with the help of several jagged lines.

Color the drawing.

For coloring, use different shades of brown. Color the eyes and nasal openings in black.
Now you have learned how to draw the face of one of the most amazing animals on our planet. Leave a little feedback in the comments, we would be interested to know your opinion about this lesson.