How to Draw a Female Head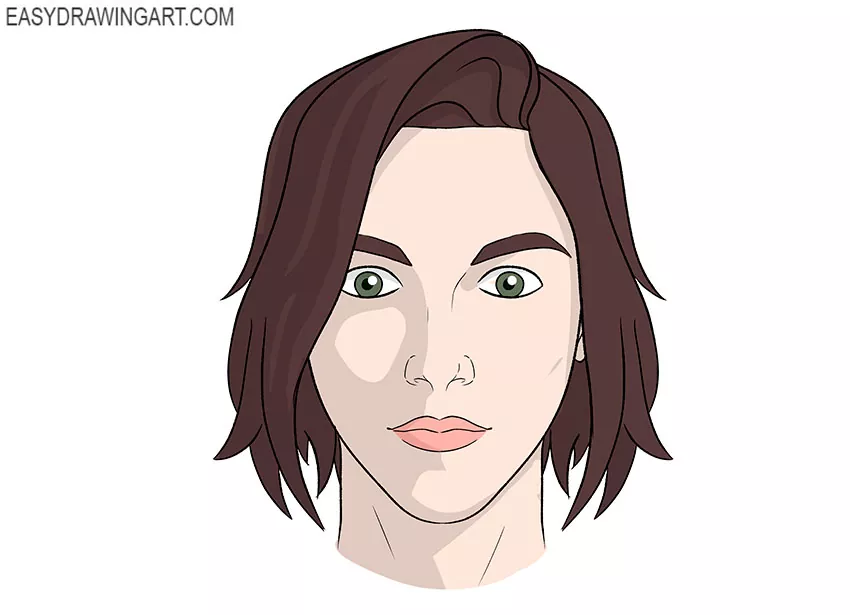 In this drawing lesson we will show you how to draw a female head. With this step-by-step guide, you will train your creative skills once again.
Read more
So, we are glad to bring to your attention an interesting and useful lesson on how to draw a female head. Here is the head of a young pretty woman.
Memorize all the drawing steps so that in the future you can easily draw a female portrait. In the process of work, be careful, accurate and observe symmetry.
Time needed: 1 hour.
How to Draw a Female Head
Draw the base.

Determine the size of your drawing and draw an oval. At the initial stage, use only thin lines.

Mark up the face and draw the neck.

Inside the oval, draw two straight lines that are arranged crosswise. At the bottom, draw two vertical lines to outline the outline of the neck.

Determine the position of the face elements.

Depict two semicircular lines to indicate the position of the eyes. Make two marks on the vertical line to indicate the position of the nose and mouth.

Sketch out the eyes.

With semicircular lines, mark the lower contour of the eyes, inside each eye draw the iris and pupil.

Draw the eyebrows.

With the help of smooth curved lines depict eyebrows of the same shape as in the example. At the same time, observe symmetry.

Depict the nose.

With thin lines, mark the top of the nose, add the wings of the nose, the tip of the nose and two nasal openings.

Add the mouth.

With the help of smooth curved lines depict the upper and lower lip. Use the mark you made earlier as a guide.

Detail the lower part of the face.

Make the lower contour of the face clearer and give the oval of the face the necessary shape. With the help of two thin lines depict the hollows on the neck.

Draw the ears.

Be careful at this stage of drawing and try to correctly depict the outer contour of the ears. Use curved lines to draw the inside of the ear.

Sketch out the forehead.

Now, using a curved line, outline the hair above the forehead and at the temples. It should be a thin smooth line.

Depict the hair.

Add the short hair. Use smooth, curved lines to depict individual strands of hair on the sides.

Color the drawing.

Take any natural shades to color the skin and hair. Paint the iris and lips with bright colors.
Now you have learned how to draw a woman's face. You can use the acquired skills in the future when you want to draw any female portrait.