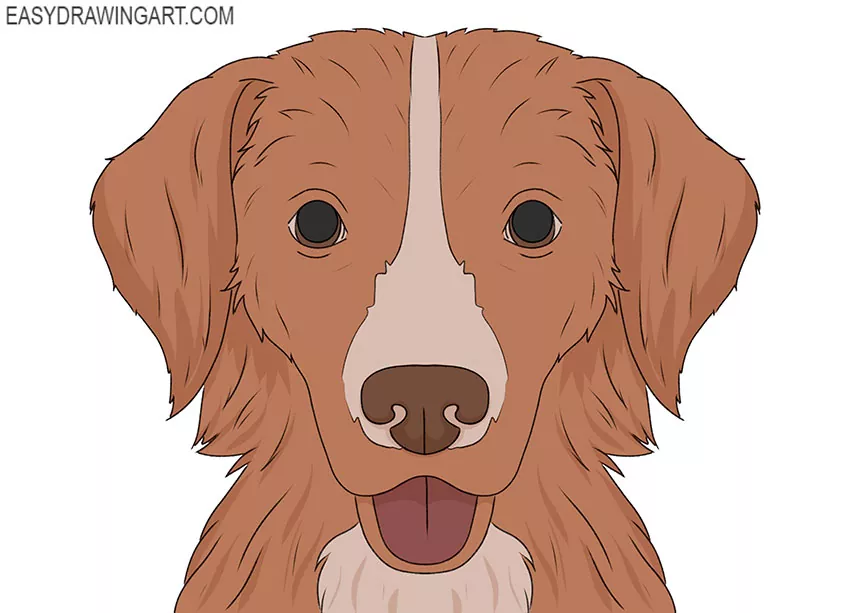 In this lesson we will show how to draw a dog head. Here is a very simple way to draw, which any novice artist can easily master.
Read more
We are glad to offer you a simple instruction on how to draw a dog head. Each step in this manual is one simple action that even a beginner can easily perform.
As usual, you will start drawing by building baselines and gradually add details. Memorize drawing steps to successfully apply the acquired skills in the future.
Time needed: 1 hour.
How to Draw a Dog Head
Draw the base.

Determine the size of the drawing and draw a circle. At this stage, use only thin lines, which can be easily removed later.

Mark up the elements of the muzzle.

Inside the circle, make a markup using two straight lines that are located crosswise.

Mark the position of the eyes and nose.

On the horizontal line draw two circles and on the vertical line draw the nose in the form of a rounded shape.

Depict the bottom of the muzzle.

With the help of smooth curved lines depict the upper jaw and then outline the outline of the lower jaw.

Add the rest of the head.

Draw the crown, ear, sides of the head and the top of the neck. At the same time, observe symmetry.

Detail the eyes.

Make the eye contour clearer. Draw the inner and outer corners of the eyes, add the iris, upper and lower eyelids.

Sketch out the fur.

Use short lines to outline the fur on the head and ears. The lines should be clearer than in the previous steps.

Draw the nose and mouth.

Use the lines you drew earlier and give the nose the correct anatomical shape. Make the contour of the lower jaw more clear and depict the tongue.

Add the rest of the fur, detailing the nose and tongue.

Sketch out the strands of the fur near the ears and on the neck. Draw small vertical lines on the nose and tongue.

Correct inaccuracies.

Now you can remove all unnecessary lines in your drawing and correct mistakes if necessary.

Depict the fur and pupils.

Use thin, short lines to represent the fur. Be careful and consider the direction of the fur. Add the pupils on the eyes.

Detail the color.

Using jagged lines, mark the contours on the dog's head where the fur color will differ.

Color the drawing.

For coloring, use different shades of brown. You will also need black for the pupils and red for the tongue.
It was a fascinating lesson on how to draw a dog head. You can further practice and draw a few more drawings, slightly changing the structure of the ears and coat color.